Discussion Starter
·
#1
·
I already posted something similar to this on xjrider a while ago but I wanted to post up here too!
A long while a go I knew I wanted to ride a motorcycle. I knew I did ever since I was a little kid but the idea was repeatedly and ferociously squashed by my parents. I never knew why it was such a touchy subject until I found out a couple years later from my Grandma my Uncle died in an accident. Regardless I decided that it was something I was still going to do and came to good 'ol sbn.net and began lurking, watching and generally trying to soak up information in general. I always loved the build threads so I decided hey, why not post up what I did to my bike and give back a little bit.
This is my Yamaha when I first got it a few years ago. Only bike that was older than 5 years at the lot and conveniently my favorite color.
It became my main form of transportation weather pending here in Nebraska for a long while. My plan was to ride it for a couple seasons, sell it and grab myself an R6. But it never happened. I really couldn't pull myself to get rid of it. But after a few years the fairing had become sun faded to a different yellow than that tank, a couple "aw shits" (Like not watching it while I had oil draining out of it and it tipping over off the pile of 2x4's to keep it straight up and down. Which broke off my mirror and cracked my fairing). I decided that I wanted to really make it my own.
I figured hey the frame and the tank are still the same color so I pulled off all the fairings.
And although I really liked the naked look, the rear plastics were covering up a bunch of wires, storage area and other doodads. Of which I did not know how to relocate or cover without them. So that's when I called my friend and decided we were going to repaint.
First thing I did was flip the bars and I put bar ends on them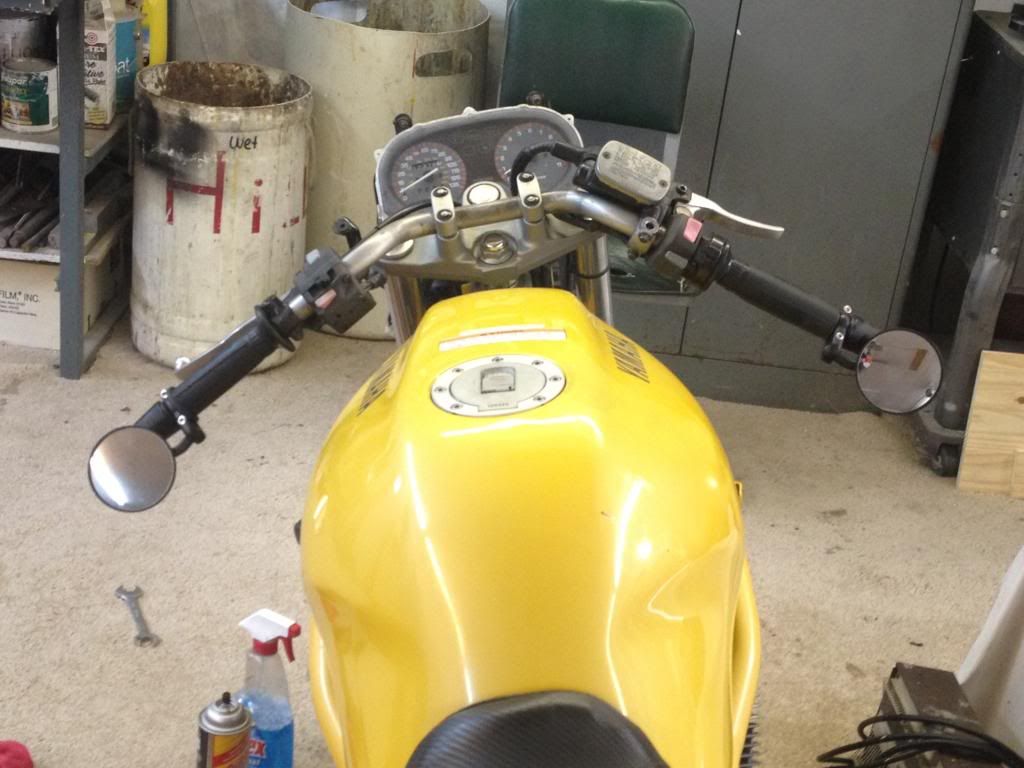 I decided on gray and yellow and kinda just went from there. There was a little peice in back that I figured would be the perfect width for a stripe, and we taped it of and started priming and laid some yellow to make it match (although the frame is still a bit lighter than the rest of it) And sprayed the rear pieces the gray I picked out.
Before
After
We pulled the fender off and shortened it up again. Put down primer, yellow and the gray together. It was the first time I got to see the colors come together so needless to say I got pretty excited.
http://i28.photobucket.com/albums/c240/Hornet56/2013-04-30195627-
1989175_zps911c7142.jpg
We got the bike together and I noticed little teeny tiny wooblies from where we didn't get the mask down perfectly straight ~~~~. So I got some pinstripe tape and put it down to cover it up and I couldn't have been more happy with the result.
Not too bad for some rattlecan, a day off and a good attitude.
The future is going to hold some new levers, new speedo, led turn signals in front and some sort of headlight to hopefully clean up the front end. But I hope that you enjoyed the beginning of it and I will keep you posted as things happen!