Discussion Starter
·
#1
·
Heading out to get on your bike and finding it missing is nightmare material. Xena Security, one of the world's leading manufacturers of alarmed lock technology, helps keep these nightmares at bay with products like the XX15 showcased here.
The Xena XX15 kills two birds with one stone by combining an alarm with a disc lock. The XX15 is an ultra-tough, stainless steel bodied disc lock with a 14mm carbide-reinforced pin that can repel hammer, drill and freeze-spray attacks. The tough capabilities are backed by an equally tough looking exterior that can act as a visual deterrent to all but the most determined thieves. Should someone be determined enough try to tamper with the bike or the lock itself, the XX15 also packs an audible punch. Internal sensors detect shock and motion, which tr***** a 120 decibel alarm (roughly the equivalent of an ambulance siren at 10 ft). The internal alarm module automatically detects the brake disc and arms itself when the pin is locked while on the disc. An audible beep notifies you that it is armed and then waits 10 seconds before the sensors are active.
Carrying a Xena XX15 Alarm Disc Lock with you is a great way to secure your bike and give you more peace of mind. You can get one of your own by getting in touch with
Brad
through this forum, or by calling 866.931.6644 ext
810
to order. Is email more convenient? Feel free to send those to
FORUM at RIDERSDISCOUNT dot COM
and we'll get back to you right away!
The Xena XX15 Alarm Disc Lock comes with everything you need to secure your bike - the lock itself, three keys, and a long-lasting lithium ion battery.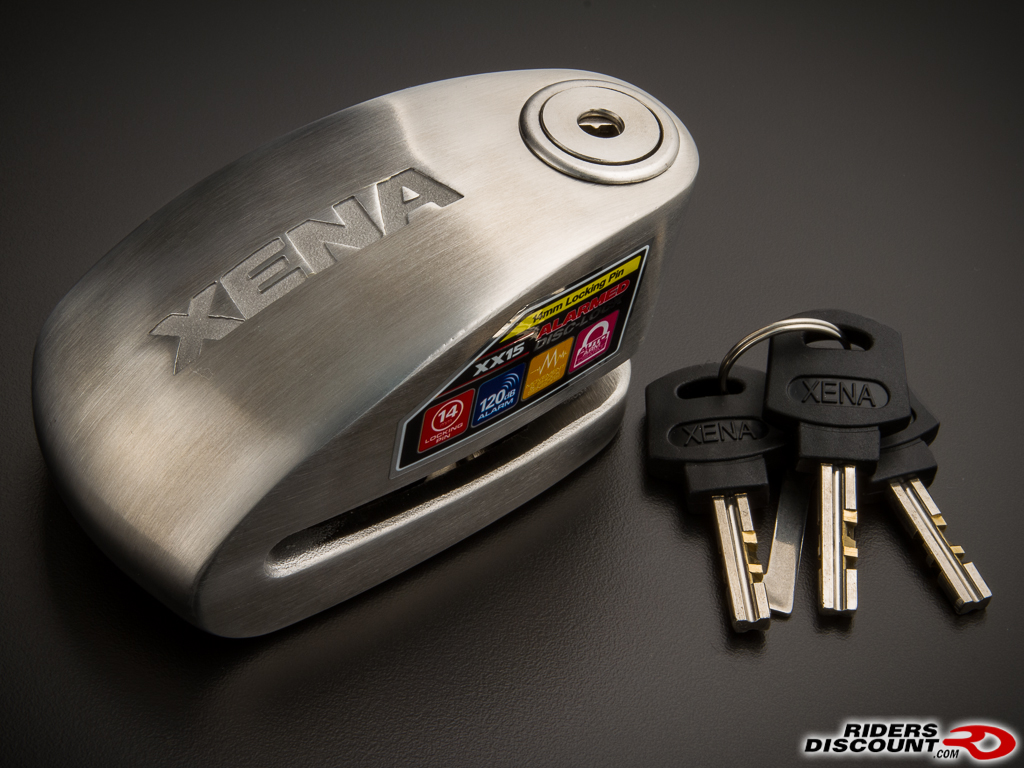 The key unlocks the 14mm thick, carbide-reinforced locking pin.