Discussion Starter
•
#1
•
Just spreading the news. Who's going? If this event is a success, look to see another one in the Spring.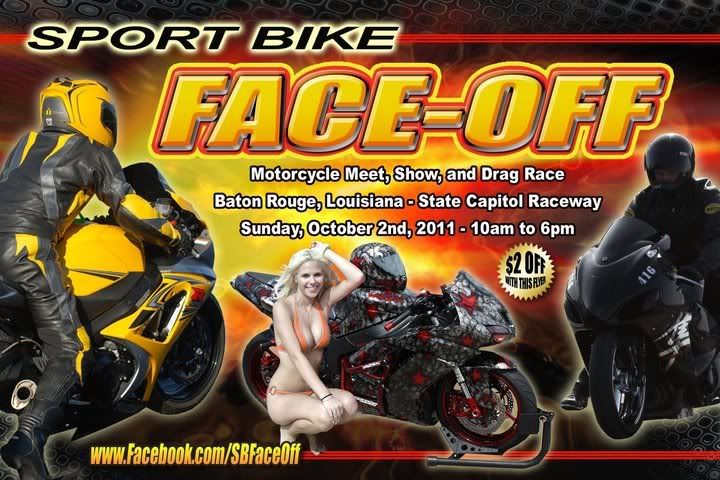 SPORT BIKE FACE-OFF (in conjuntion with Import Face-Off)
Sunday, October 2nd, 2011 at State Capitol Raceway near Baton Rouge (10am to 6pm). Bike show and meet, open grudge racing, competition racing (bracket and heads up), models/DJs/vendors, raffles and giveaways, burnout contest.
PRICES
Spectator $15 with flier coupon (regular $17)
Bike show contestant $25
Drag Racer $25
RACE CLASSES
Open Grudge Racing / TnT (no payout)
ET Bracket (Jackpot payout)
9.0 Index Heads up (Jackpot payout)
Jackpot payout from $25 entry fees (100% payout - 70% to 1st, 30% to R/U)
*Additional bracket and index classes added depending on participation
SHOW CLASSES (minimum 4 to make a class)
Best Suzuki 1st and 2nd
Best Kawasaki 1st and 2nd
Best Hayabusa 1st and 2nd
Best Honda 1st and 2nd
Best Paint
Best of Show
*Additional classes and places added depending on participation
Event info – Ph: 225-247-RACE (7223) or
[email protected]