Spark Streetfighter High Mount Slip-ons Carbon Fiber
Price: $1,699.99
FREE Shipping
2 Silencers - round - high mounting - left / right + pipes WITHOUT catalysts.
The system is available in Titanium, Carbon Fiber, Natural brushed Stainless or Black canister.
Includes high mount manifold, number plate holder and heat protection.
"The best performing high pipe we have tested on the Streetfighter. Great low and mid range punch. It also has a nice top end that seems to keep pulling as you add throttle".
- Motowheels Streetfighter Project bike: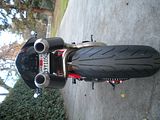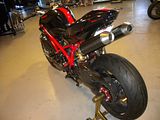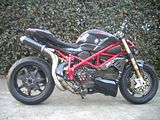 MW Tuning/Rexxer ECU Remap
* Send your ECU to Motowheels to have it re-mapped for only $150 ($300 Value) with the purchase of your new exhaust system.
* FREE continental USA shipping on orders over $100.
* Outside continental USA, use shipping coupon codes:
GLOBAL250 gets 25% off shipping on orders over $250
GLOBAL500 gets 50% off shipping on orders over $500
GLOBAL750 gets 75% off shipping on orders over $750
* Register on the Motowheels website for Free forum or lifetime VIP passwords to access discounts on most non sale items. Look for memberships and choose the membership type that fits you the best