The only people who believe there are 6 kinds of evolution are creationists. Only the last two "meanings of the word evolution" have anything to do with the actual theory of evolution, and it's debatable whether or not there should be a distinction between those two. Nevertheless, I will attempt to address some of your questions to the best of my abilities.
moresoever575 said:

1. Where did matter come from?
2. Where did the laws of the universe come from (gravity, inertia, etc.)?
Both of these are unknown and probably unknowable. They're certainly unknowable until we manage to create a unified theory of physics. Neither the theory of evolution nor the Big Bang theory attempts to answer either of these questions. The second question in particular is probably more philosophical than scientific.
3. How did matter get so perfectly organized?
4. Where did the energy come from to do all the organizing?
What I believe you're trying to do here is make an argument from the Second Law of Thermodynamics, which is commonly stated as "The total entropy of any isolated system increases over time, approaching a maximum value." One must remember, however, that it is equally accurate to state the law as "A system operating in a cycle cannot produce a positive heat flow from a colder body to a hotter body." As you can see, this has very little to do with the entirely unscientific concept of organisation. Indeed, organisation is a completely arbitrary concept. (laws quoted from wikipedia)
5. When, where, why, and how did life come from dead matter?
Why is a philosophical question, not a scientific one. There are several competing theories as to how life originated, as well as several theories as to general times and places. None of the theories are necessary to evolutionary theory, and none are anywhere near as well supported as the theory of evolution.
6. " " did life learn to reproduce itself?
Why is, once again, a philosophical question. When, where, and how are largely unknowable, as evolutionary theory requires that reproduction start before organisms we could possibly find any trace of today existed. Of course, the exact mechanism by which reproduction began is largely irrelevant to evolutionary theory, as interesting as it would be to know.
5. Macroevolution- the changing from one kind to another (dog to cat, horse to house, fly to human)
I see you subscribe to the "kinds" definition of macroevolution, whereby all creatures can be grouped into distinct kinds. Can we agree that if this is true, man and non-man primates are two different kinds? Consider this fossil: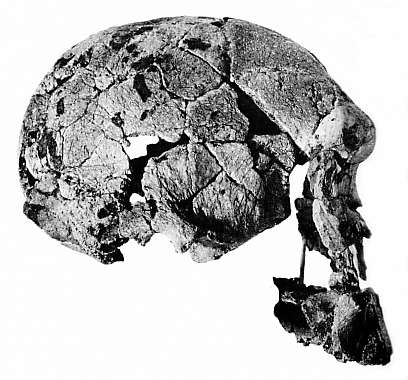 Found in Kenya in 1972, this skull is the most complete Homo Habilis skull ever discovered. It demonstrates features found in both modern man and modern apes. Creationists are divided over whether this skull belonged to an ape or a man; Duane Gish was originally of the opinon that it was a man, then changed his mind. Other skulls, such as Peking man and Java man are the subject of similar disagreement. If creatures can truly be grouped into distinct kinds, why is it that there is considerable disagreement as to where the boundary between one kind and another lies?