Discussion Starter
·
#1
·
Transform your Sport Classic's appearance AND performance with a light set of wheels. Save about 20 lbs of weight by changing to tubeless forged aluminum wheels and aluminum sprocket. The OZ wheels are a direct bolt on for OEM brakes or aftermarket brakes.
In stock and ready to ship, limited production run silver finish now available.
OZ Motorbike Piega Forged Aluminum Wheel Set: Ducati Sport Classic [Silver Edition]
Price: $2,129.95
FREE Shipping
Ducati Sport Classic Wheel weights:
OEM Ducati Sport Classic spoke wheels - Aluminum rim 15.25 20.10
OZ Piega Forged aluminum wheels Ducati Sport Classic 7.50 12.05
FEM (finite element method) designed to minimize weight and increase strength and rigidity.
Reduced wheel weight decreases the moment of inertia which results in quicker acceleration and braking, lowers un-sprung weight and gyroscopic effect to provide quicker turn-in and more positive handling.
Specially treated billet aluminum alloy is bi-directionally forged, resulting in a more uniform and stronger metal structure.
Heat treating, shot peening and CNC finishing are done in house resulting in an extremely lightweight and rigid wheel.
Included parts: bearings, valve stems, axle spacers (as applicable)and sprocket adaptor.
Note: OE rear sprocket will not fit. Must use rear sprocket specifically for OZ Motorbike Wheels such as Corse Dynamics or Driven.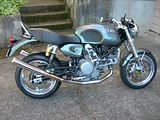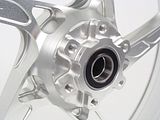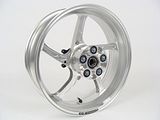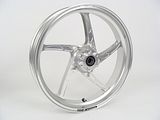 * FREE continental USA shipping on orders over $100.
* Outside continental USA, use shipping passwords:
GLOBAL250 gets 25% off shipping on orders over $250
GLOBAL500 gets 50% off shipping on orders over $500
GLOBAL750 gets 75% off shipping on orders over $750
* Register on the Motowheels website for Free forum or lifetime VIP passwords to access discounts on most non sale items. Look for memberships and choose the membership type that fits you the best
.