Discussion Starter
·
#1
·
I've owned an amazing 2007 Aprilia RSV 1000 R for the past two years or so. Great bike that had the looks, the power and the handling that made me smile. Now, it's gone and it's time to get something new. I want to get out of the clip on body position and want to get something with a handlebar but still maintain a good sporty ride. I've always owned V-Twins and I love this engine configuration. I'd like to stay here but will consider a V4. It'll be mostly for street riding, twisties, and the occasional track day. I have $8000 to play with and here are the bikes that I'm considering.
1. 2006-2010 Aprilia Tuono Factory
- Pretty much a tested and familiar situation with me. I love this motor and suspension. I had Ohlins front and rear on my RSV and I'd like to keep the same on my Tuono. That is why I like the Factory version. I might be able to find one much lower than $8000 and can stash the rest for mods or something.
- I think this bike is pretty ugly but I can live with it as long as I look only at the back end of the bike.
2. Ducati Streetfighter 1098
- I've seen a few of these in the $8000 range recently. This is not going to be the SFS model, but if I'm lucky and patient, I might find one. But not likely. I've owned 4 Ducati's before and LOVE the motor. The bike is super goegeous and gets me tingling in all the right places.
- You have to spend some money on the valve checks and possibly adjustment every 7500 miles or so. This can be anywhere from $400 - 1200 depending on how many valves have to be adjusted. Also, you don't get the traction control or ABS at my price point unless I get the S model... which is unlikely.
3. Ducati Streetfighter 848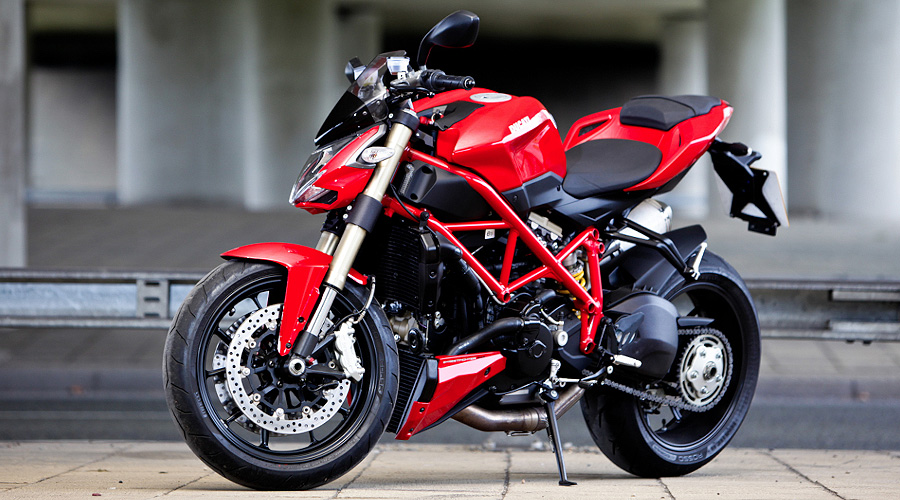 - All the beauty of the 1098 but with a more street friendly package. It has a wet clutch which I prefer over the dry clutch. It's got the traction control but no ABS. The handlebar is also a bit higher and the Rt foot peg placement isn't as much of a problem as on the 1098.
4. Aprilia Tuono V4
- It's not going to be super easy at $8000 but they're out there. I might have to drag the guy into my pricing territory. I mean... this bike is just the fucking tits. Great electonics, phenomenal power, comfortable riding position if you change the plank they call a seat. Other than an exhaust, I really won't have to do much in the way of mods... oh and suspension; but I'd be getting heavier springs for my fat ass on pretty much any of the bikes I've listed.
- Only thing is that I'm not that crazy on the 4 cyl power plant and even though it isn't AS ugly as the older model Tuono, I still think this isn't a pretty bike by any means.