Discussion Starter
·
#1
·
Hey guys, saw from another post that there is some interest here in bike builds, figured you might like to see what I'm working on, I'll give you the truncated version now, if you'd like to see the full build go here:
ChopperWeb.info - Not a chopper, but I like this forum, hope you like the bike....
Here's the cliffnotes version:
Specs and Goals:
1977 XS650 frame/engine the engine will remain mostly stock, just rebuilt.
I'm switching the engine over to fuel injection. It will be run by Megasquirt controlling fuel and spark.
The motor will be turbocharged and intercooled- if my #'s are correctly calculated, I should be getting about 88hp out of the engine, so maybe 75-80 at the rear wheel.
ZX6R front suspension and bars
Buell swingarm and rear shock
Frame will be 70% my own construction
Bike will have all the same specs as a modern sportbike regarding the rake/wheelbase/ect... However, it will be taller than most sportbikes. I've got really long legs and I like taller bikes, plus, I want to keep people from wanting to ride my bike.
Wheels will be f2/f3 style
Full brakes from ZX6R
Custom subframe and tail section of my own design
Buell headlight and windscreen
Suzuki GSXR gas tank
bunch of other stuff I'm forgetting.....
Pictures:
Tail section I molded from foam and fiberglassed: (Which I've now decided not to use and am going to make a new tail out of sheetmetal that mimics the KTM RC8 tail.)
Buell swingarm, was initially purchased because the warrior engine is a right side drive. I still wanted to use it, so I'm filling in the right side, and cutting a space for the chain on the left side.
Made some paper templates: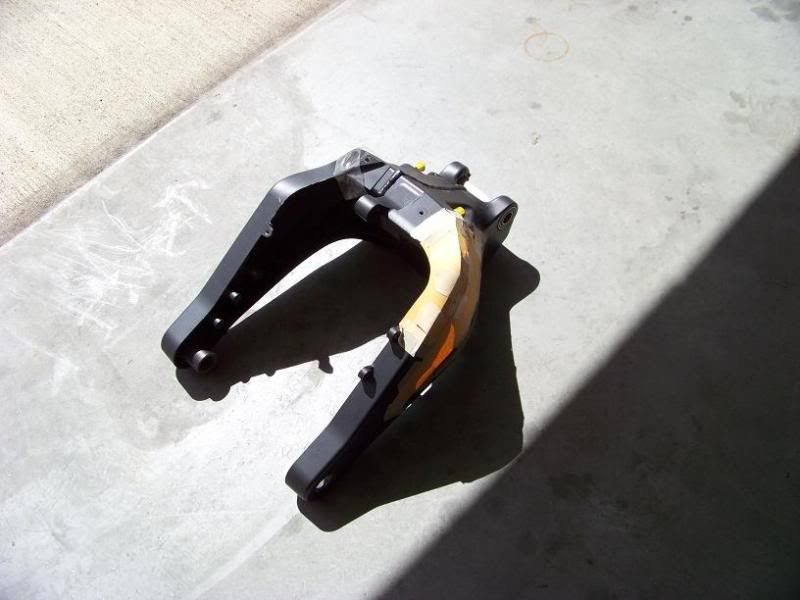 Cut the pieces out and welded them up. This is my first time working with aluminum, it's pretty fun.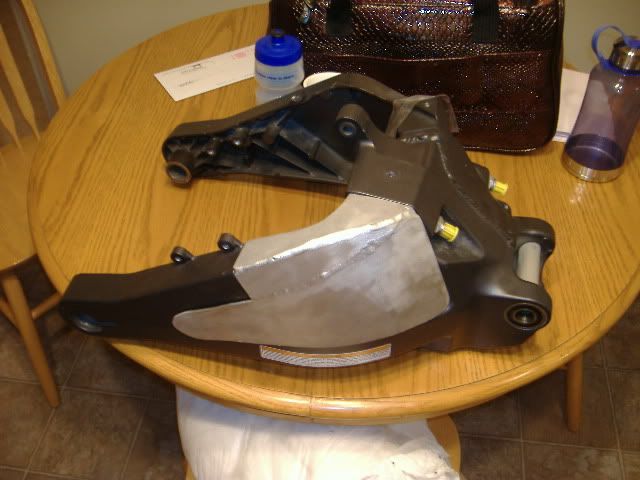 smoothed the welds, the piece should be welded in place pretty soon:
Here's the frame I started with: