We like these sliders for their modular nature and simple installation. Their unique crash pads do a great job of absorbing and dissipating crash energy, while also sporting a look that separates them from other frame sliders on the market. The rounded edges of the plastic slider inserts reduce the chances of the slider hooking as it rolls over the ground, theoretically reducing the amount of damage your bike may experience. In many cases, a light crash may only damage the sliders themselves, which means that you could get away with buying only a new set of crash pads instead of a completely new setup. The crash pads are all made of aluminum and come in a myriad of colors. They are sold separately from the mount kit so that you can choose the one that you think looks best with your bike. Available colors include: Black, Blue, Carbon Look, Chrome, Green, Orange, Red, Silver, Titanium, White and Yellow.
LSL's frame slider kit is comprised entirely of CNC-machined brackets and high-quality hardware. Simple to follow instructions are also included with every one. While the primary goal of these frame sliders is to prevent the frame itself from coming into contact with the ground, reducing the likelihood of a very expensive crash repair, they also reduce the amount of damage that would have otherwise occurred to bodywork and engine cases.
Mount kits are available for most modern sportbikes. To check the availability for your application, get more information, or place an order, just get in touch with
Brad
. Feel free to give him a call at 866.931.6644 ext
810
or send a message through this forum. Is email more convenient? Go ahead and send those to
FORUM at RIDERSDISCOUNT dot COM
and we'll get back to you right away!
Shown with red crash pads on the 2013 Triumph Speed Triple R.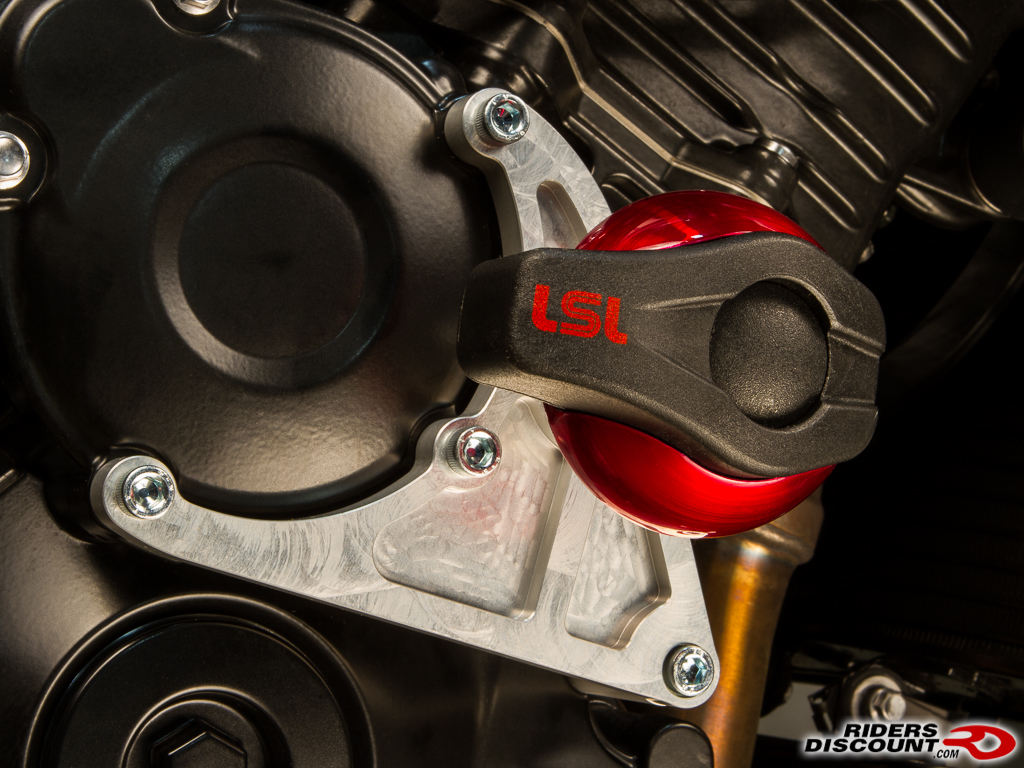 The high-quality, CNC machined brackets are designed for each specific model and fit perfectly.