I cant believe this post still exists. Need to sell the rest of this stuff that has all been boxed up in my garage. Thank you!
-Sold the bike last spring(03) and am finally getting around to selling my stuff.
-All parts are for a 96-99 750 or 96-00 600 unless otherwise indicated.
-I can take a pic of anything you want and send it to ya
-Shipping is included in the prices.
-Have paypal, accept money order and personal check with waiting period to clear.
EMAIL:
[email protected]
PARTS:
CBR'S LP CLUTCH LEVER
- Bought the wrong one, brand new.
CBR 600/f2/f3/f4/f4i/900/929/954 - '87-'03
Stock# 2401200 OEM# 53178-kv3-000 -
$15
SHOCK
- Off of a 2001 GSXR 600, less than 1k miles, I thought I needed a shock then I found the upper mounting piece I needed so I haven't touched this. Complete with all mounting pieces and bolts/nuts, has the yellow spring -
$60
REAR CONNECTER FAIRING
(front of rear wheel) - Stock/OEM, yellow, great condition, has light normal road wear on the bottom no cracks or damage of any kind -
$50
STOCK HEADERS
– Off 99 600 normal wear. -
$70
STOCK CANS off of a Busa
– left and right, both in good condition, some light handling scratches. I purchased the set to have the right for my bike but just ended up leaving the rashed yosh I had and ended up buying a full system anyway. Will sell the right with the header if I don't get anyone wanting both of them or a seller only buying the left. -
$50 each/$90 both
EXHAUST CAN HANGER
- TITANIUM - tubular design, stock position, replaces the passenger rear-set. -
$40
STOCK FRONT SIGNALS
– good condition, with light scratches, w/out the connectors. -
$15
FRONT SPROCKET
- New in package 520-16 teeth. This is a JT sprocket, PN 512-16
http://www.accwhse.com/jt.htm
-
$15
REAR SPROCKET
- PRO-TEK purple 520-40 teeth, PN 1100/40, also fit TL-r/s and the Busa. Check chart at
http://www.protekk.com/sprocket_app...tm#SUZUKI APP
very light wear through anodizing, none in the center only on side, I can take close ups -
$20
GEAR:
GLOVES
– First-Gear size large, yellow/black used a little bit, nice, just slightly too small for me
http://www.firstgear-usa.com/products_gloves.htm
Similar to the supertech model, paid $65 last winter. -
$30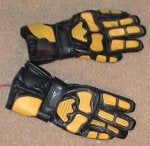 EMAIL:
[email protected]