- Philadelphia -
Asking $3000. Comes with the Pit Bull rear stand and a spare set of bodywork in the same colors.
Bill of Sale / Track Only – Unless you care to go through the trouble of getting a title
I'm getting married in a month, and need the cash to pay for the honeymoon. So you'll have the honor of paying for my lady and myself to get the fuck out of Philly for a time, and if sex tapes are made you might get first dibs
The alternative is possibly naming the child conceived after you – if your name doesn't suck.
I bought this machine approximately two months before I lost my job, while I was living the easy life of single, rent free parental housing. Also, approximately one month after I met the most awful woman ever to walk the face of the Earth. Goodbye disposable income, hello instant regret. Buried in the garage we go!
Took a few months, but I got a new start in a new city. The new job would give me disposable income, if I were still single, and if rent didn't suck ass. Needless to say, I have had no time and no cash to play with my wondrous "new" toy. Continue this for two years. Finally, hello amazing one night stand, goodbye psychotic ex! That one-night stand became a hell of a lot more than either of us ever imagined, and now it's going to be a lifetime. Now this isn't like some guys, who are forced out of their pride and joy… I'm keeping my street bike, and you'll pry the bars from my cold, dead hands.
On to the bike…
• 2006 Kawasaki Ninja 650R
• 3550 miles
• Safety wired to CCS/WERA rulebook
• Two sets of Cheetah race bodywork
• Wearing the same track take-offs it wore the day I bought it
• Sitting on / comes with a Pitbull rear stand
• I've been inside the cases to check things out, and it's spotless
• No Title / No registration / No Insurance – I bought it for a track bike
• Penske Rear Shock set for ~190 lb rider
• Preload adjustors, Traxxion Dynamics front springs, Racetech cartridge emulators
• Billet Aluminum Aftermarket levers
• Billet Aluminum Woodcraft rearsets
• Arrow aftermarket exhaust (silencer not installed, but included)
• Hyper Naked aftermarket bars
• Power Commander
Just installed a new battery - the original went flat after sitting in the garage for almost three years. Cranks right up and runs beautifully.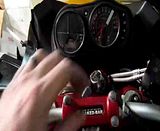 Overall pics: