Discussion Starter
•
#1
•
Naked Bike? Super Standard? Modern UJM? Who Cares What It's Called: The Futuristically Retro and Super-fast Z1000 Is an Absolute Blast to Ride
It's a rare thing: a new from the ground up motorcycle that feels so right and works so well right out of the crate that it has the press swooning and owners crooning. These well-sorted but rare bikes are often described as "happy motorcycles," and it's become crystal clear during the last year that Kawasaki's Z1000 – completely redesigned in 2010 – is a very happy machine. It's a realization that comes after just a mile or two in the saddle, and it's one that confirms the fact that this motorcycle's design team worked a special bit of magic during development.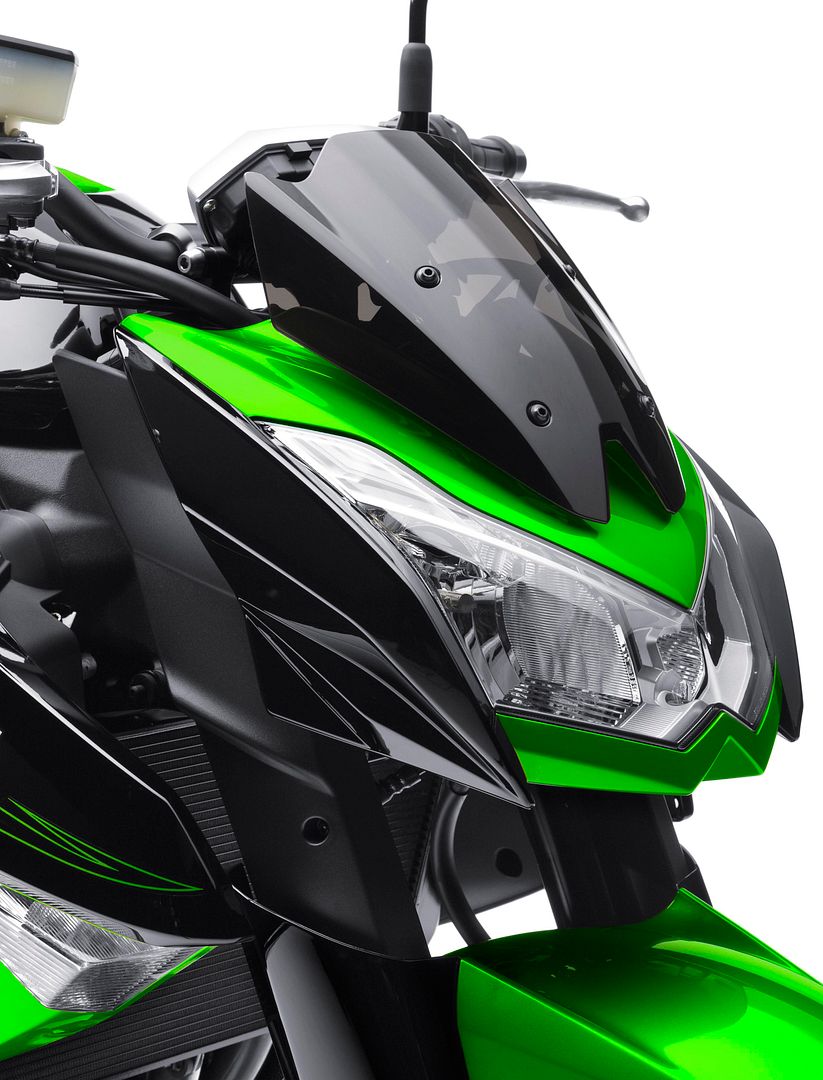 The Z1000 thrills before you even jump aboard, with some of motorcycling's most rakishly stunning lines and body shapes. The aesthetic showcase begins with a low-mount front cowl that slopes back radically, highlighting the Z's prow and, behind it, an adjustable instrument cluster featuring a multifunction LCD display covered by a trick-looking orange lens. The headlight represents Kawasaki's first-ever use of a line-beam unit, the guts of which are integrated nicely into that angled cowl. Moving rearward, you come to a shapely fuel tank that's flared on the sides to let you grab it with your knees and that's trim at the back for a snug fit. The seat is low and narrow at the front to make ground contact easy, and flows beautifully rearward to end in a futuristically retro LED taillight behind a red lens. It's a thoroughly athletic shape, one sure to garner attention wherever it's ridden.
Totally redesigned just last year, the Z features a wide range of new-think moto technology, including an aluminum frame similar to the ZX™-10R's that curves over the engine, cradling it from above. The design allows a narrow mid-section, which fosters a high degree of rider comfort and feedback in addition to keeping weight low and chassis rigidity high. The engine bolts solidly to the frame in three places, stressed-member-style, and there's also a rubber mount at the upper rear crankcase area for added vibration damping and torsional rigidity. The main frame and swingarm pivot elements are cast as a single unit, with welds eliminated wherever possible for a more aesthetically pleasing look. And the subframe is a lightweight aluminum die-casting, which is light, smooth and beautiful.
Suspension at both ends is thoroughly modern and wickedly functional: a beefy, fully adjustable 41mm inverted fork up front and a spring preload and rebound damping adjustable Uni-Trak® shock in back that's mounted nearly horizontally above the swingarm to shield it from exhaust heat and foster an added degree of mass centralization. Wheel control is simply superb, and the substantial feedback sent to the rider makes it easy to know exactly what's going on at the bike's contact patches.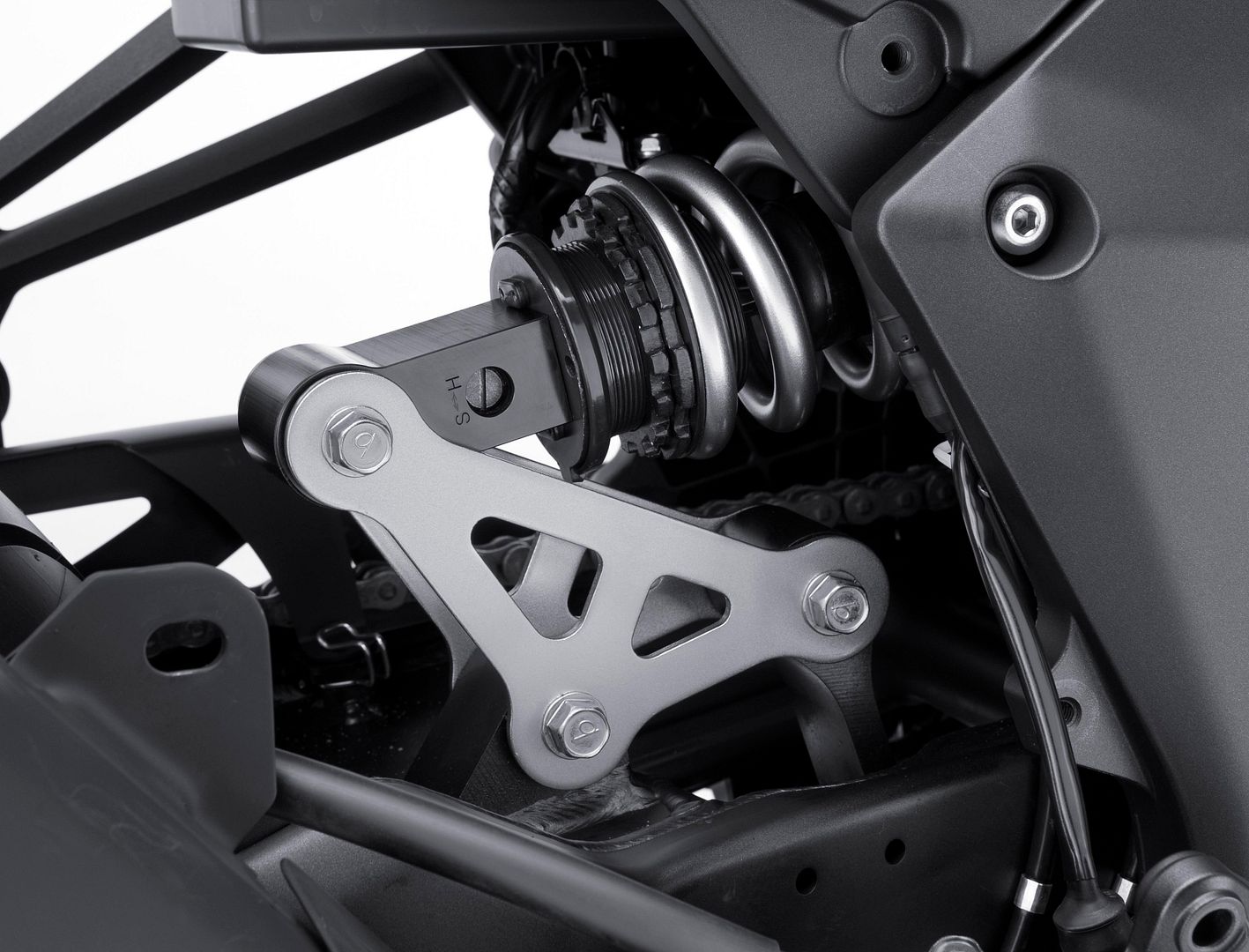 The heart of every naked bike is its engine, so Kawasaki engineers paid special attention here for maximum, arm-straightening impact: Dual cams. Sixteen valves. 1,043cc. Liquid cooling. High compression. A long stroke – 56mm – for instantaneous thrust. Six speeds. And digital fuel injection. It's all there.
The result? This inline-four packs impressive horsepower combined with the sort of flexible, mid-range-heavy power delivery that pastes a silly grin on the face of anyone lucky enough to be aboard. From nearly any rpm, rolling the Z1000's throttle provides the kind of instant gratification most sportbikes just can't quite muster, all with silky smooth, highly intoxicating response.
There's more, of course. Check out the Z's five-spoke wheels, with spokes machined near the rims for a custom look. We carried forward the quad-pipe theme from the last Z1000 (and the first Z-1), but an under-engine pre-chamber lets engineers use shorter mufflers for great looks and better mass centralization. A solid-mount handlebar and aluminum footpegs lifted from the Ninja® ZX-10R contribute to the Z1000's quality, top-shelf feel. Brakes? Totally modern: Radially mounted calipers, Ninja-spec 300mm petal-type rotors and a radial-pump master cylinder all provide the latest in braking feel and feedback.
Conventional wisdom says many of today's motorcycles lack soul, or are all too much alike. The Z1000 proves otherwise – and happily.