Just in case I wrote this so spelling errors and typos will be running free, pics will be added latter.
Moto Guzzi Bellaggio.
Ok I don't cruisers well to be brutally honest I don't get them. Short travel suspension piss poor brakes on the front coffin seating postion (ask a mal surf rider) and engines despite their capacity go on strike 500rpm after idle and a turning circle only an aircraft carrier would be proud of. After plonking along the boulevard are really low rpm the novelty usually disappears at the first corner. So when the guys at the local Guzzi shop suggest I should take the Bellagio for a ride I didn't take them real seriously despite a serious soft spot for the marque. But then again niether are the guys at the Guzzi shop cruiser guys so thier might actually be something to this.
I suppose there was a give away in the engine capacity 940cc where as most cruisers seem to start at 1.3-1.5 litres Guzzi have actually de stroked thier 1200cc motor for this bike ... hang on they wahh? You imagine in every bike company there is a constant battle between the engineers the bean counters and the marketing department the marketing department wanting the largest numbers to print in thier sales brouchure the engineers wanting a build a techincally competent machine and the bean counters not wanting nethier to send the company broke. Transfer this enviroment to a small pasoniate Italian bike company instead of hours upon hours of stale board meetings it would of been sorted over their regular lunch with much hand waving yelling and in the end it would a 1500cc bike with long low suspension. Except the engineers got the shits on went down to the production floor and made the changes they wanted after lunch and no one realised what was going on till they started rolling out the factory door and good thing that is too.
Along with the shorter stroke motor to make a more responsive motor they have probally added some wieght to the internal componets. Guzzi riders over the last few year whilst will acknowledge that the Griso 1100 and Breva 1100 are a far more responsive willing motor there has been something missing that guzzi's even the sporting ones have always had midrange torque well the good news its back in spades. Not only in the mid range but throughout the entire rev range. But enough idle speculation whats it like to actually ride.
Swing you leg over the the seating postion comes at a surprise the "drag" style bars fall naturally to hand and your feet sit below you where you would expect them to be on any normal standard bike. So basically it feels like a normal bike snick it into gear gone is the guns of navarone breaches closing and simply percise snick again as good if not better than any other motorcycle in market. Even though the motor on the bike i rode was relatively tight with 600 kms on it it still pulled willingly from any rpm in pretty much any gear no tacho is fitted to so actual numbers is pure speculation even dileberate abuse by letting the engine idle right down to low speed in a high gear then wrenching on which on a older carbed beast would of produced a flameout the motor shudders a bit to tell you what you're doing isn't right then it goes. The best bit is even vastly further up the rev range there is still a willingness to go.
This bike will never be an R1 eater well not in a striaght line anyway but the performance could be described spritely and entertianing to say the least as well as flexiable. But not only is the motor gearbox a good one but hanging off ethier end are fully adjustable suspension four pot twin brembo's with briaded lines and standard 17 inch size sports bikes wheels meaning pretty much you can get whatever rubber you require for your uses. Some of the compentry like the axial mount calipers and the coventional forks aren't the latest in fashion but there is no questioning thier function. The bars provide enough leaverage to throw the bike into corner with aplomb the guzzi sure footed-ness hasn't gone anywhere on this bike so one its set on a track it will go the direction its been pointed. On my realtively short ride I didn't get anything to touch down and whilst the suspension wasn't at its ideal settings for me it wasn't far off and there is little doubt it would be easy to get there.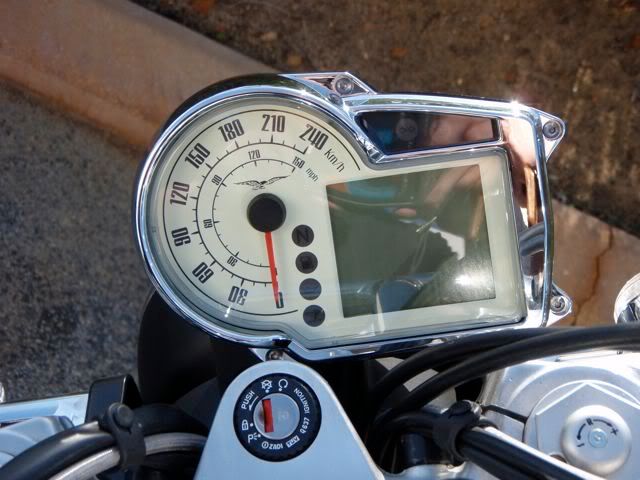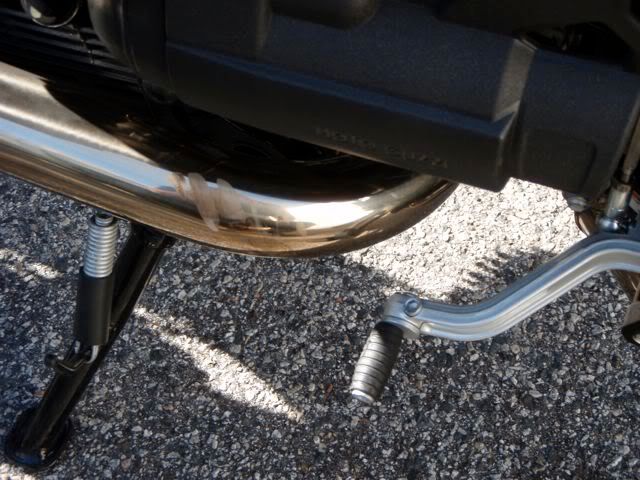 Its not all roses there are some minor issues the kick stand tang is close to the exhaust and even this relaively new bike had the remants of someone soul, the twin stacked exhaust would make throwover bags tricky and the speedo is a bit hard to read as the lower graduations are right at the bottom end at least the instruments are in front of the bars where they should be you don't have to stare at your navel. A tacho would of been nice but with the broad spread of torque not really nescary and its got the aprilia horn above the indicators layout I looked at it once figured out whats where and never had a problem after that.
Looks still don't get cruiser looks the twin brakes on the front will please some although if you like the arse dragging on the ground raked front end you might be disappionted propper suspension travel means you need clearance for the wheels to go up and down as well to tip into corners without dragging everything it site. There is a smattering of chrome which contrasts nicely with the matt/satian minmilist body work the twin stock mufflers even sit nicely and emite a reasonble burble if a bit quiet at idle.
Some would say that the raked out tail dragging look is what cruisers are all about and Guzzi missed the point. Be grateful they did otherwise we wouldn't have such a well sorted flexiable machine at our disposal and people like me who don't get cruisers etheir wouldn't have look at it.
Thanks to ThunderBikes Perth Western Australia for letting me loose on their demo if you are ever that way and after some Guzzi goodness they are the people to see. Now where has that 8valve Griso demo got too?
Words and pics: Murray.