If you're in the market for a safe, comfortable, lightweight, and good looking helmet, you may have already considered the Bell Star Carbon. If you haven't, you'll want to. We've reviewed the three different Star Carbon models individually, so we'll make it easier for you by bringing all three together in this thread. They are the Airtrix Laguna, Race Day and the stealthy Matte Carbon.
Bell's top of the line Star Carbon helmet is back for 2013 with new graphics and a revised shape. The new shape is based on the RS-1, which was introduced after the Star, and featured an extremely well fitting intermediate oval headform. Other than the shape, the Star Carbon goes relatively unchanged, and retains all the features that made it so popular to begin with.
As with the previous Bell Star Carbon helmets, this version uses an outer shell that is made from 100% carbon fiber. Bell spent a great deal of time engineering the shell to be not only lightweight and strong, but very aerodynamic as well. What they came up with was an angular shape with a uniquely contoured spoiler, both of which make this helmet extremely stable and resistant to buffeting. Air is also directed into the variety of strategically placed vents at the front in order to push warm, stale air out through the exhaust vents at the back. All vents are independently adjustable so that you can dial in the ventilation for a variety of conditions.
Another feature that goes unchanged is the shield system. The Star Carbon uses their fog and scratch resistant NutraFog II face shield in order to keep your view clear. It's also treated with a potent anti-UV coating so that you don't have to worry about your face being burnt red after a day's ride in the sun. Bell's 3Mode Shield allows you to quickly lock the visor down, crack it open for added ventilation and swap out faceshields with no tools required. And don't forget to ask about a Bell Transitions SolFX Photochromatic faceshield. These visors have the same great benefits of the included unit, but also change their tint based upon lighting conditions. They darken quickly (~10 seconds) when the sun is out for squint-free daytime riding.
For more information on any of the Star Carbon models shown below, or another Bell helmet, you can get in touch with
Brad
through this forum, or by calling 866.931.6644 ext.
810
. Is email more convenient for you? Feel free to send those to
FORUM at RIDERSDISCOUNT dot COM
and we'll get back to you right away!
Bell Star Carbon Airtrix Laguna
- Shown here with an optional Dark Smoke shield. All Bell Star Carbon helmets come with a clear shield as standard.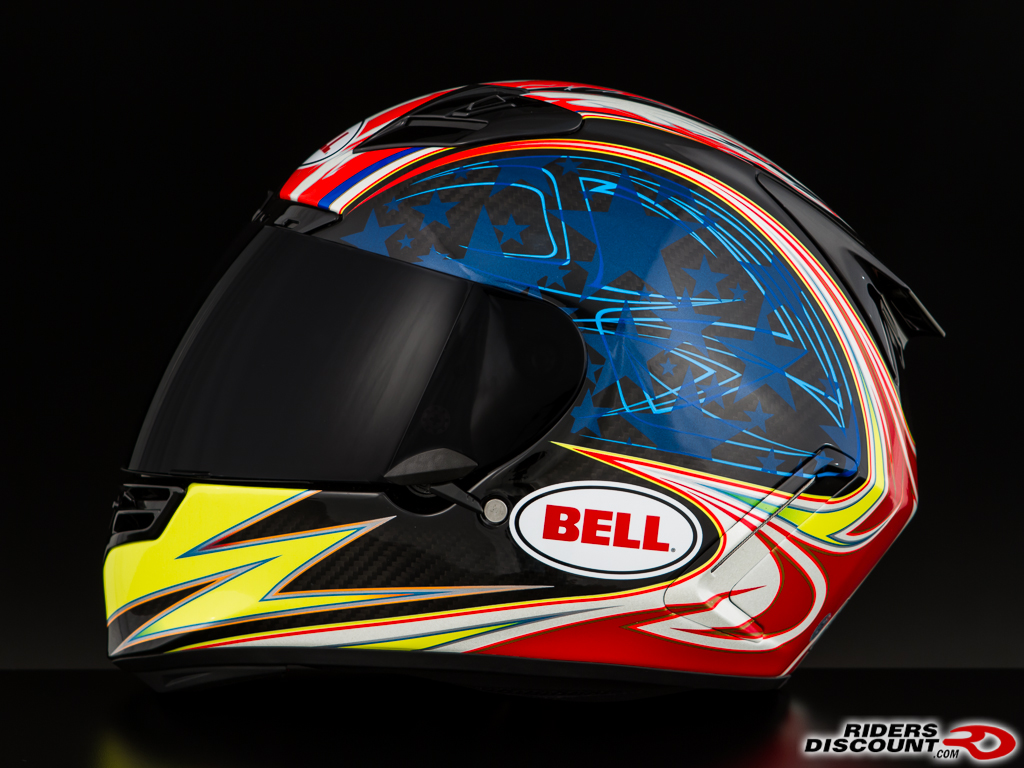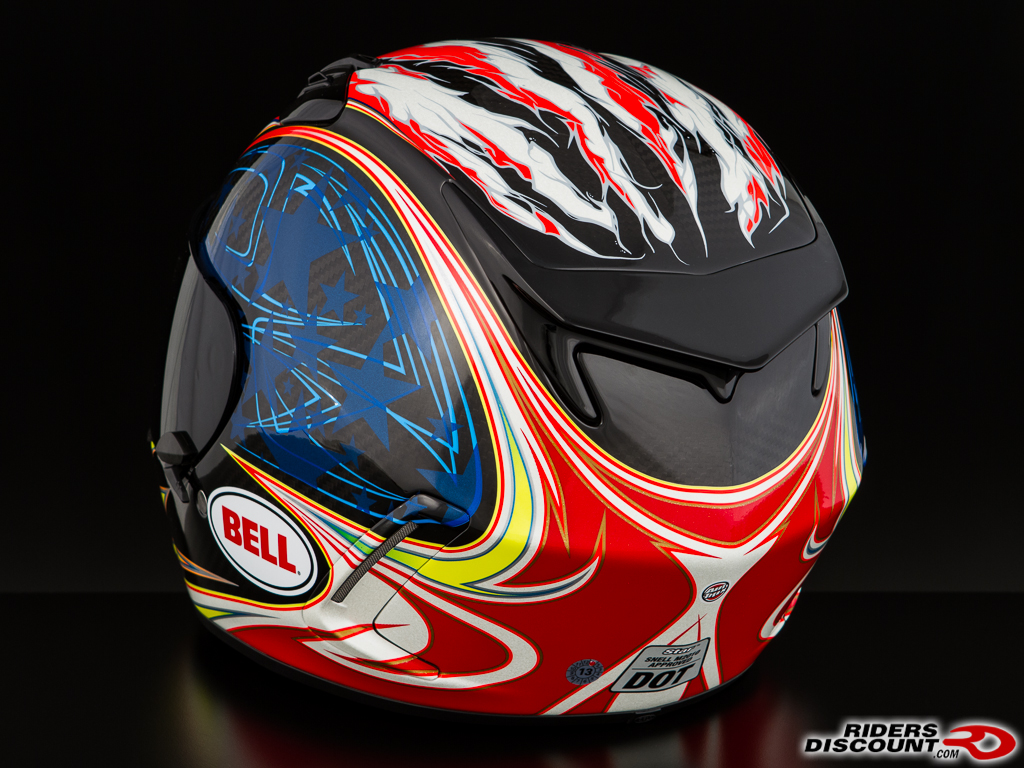 Bell Star Carbon Race Day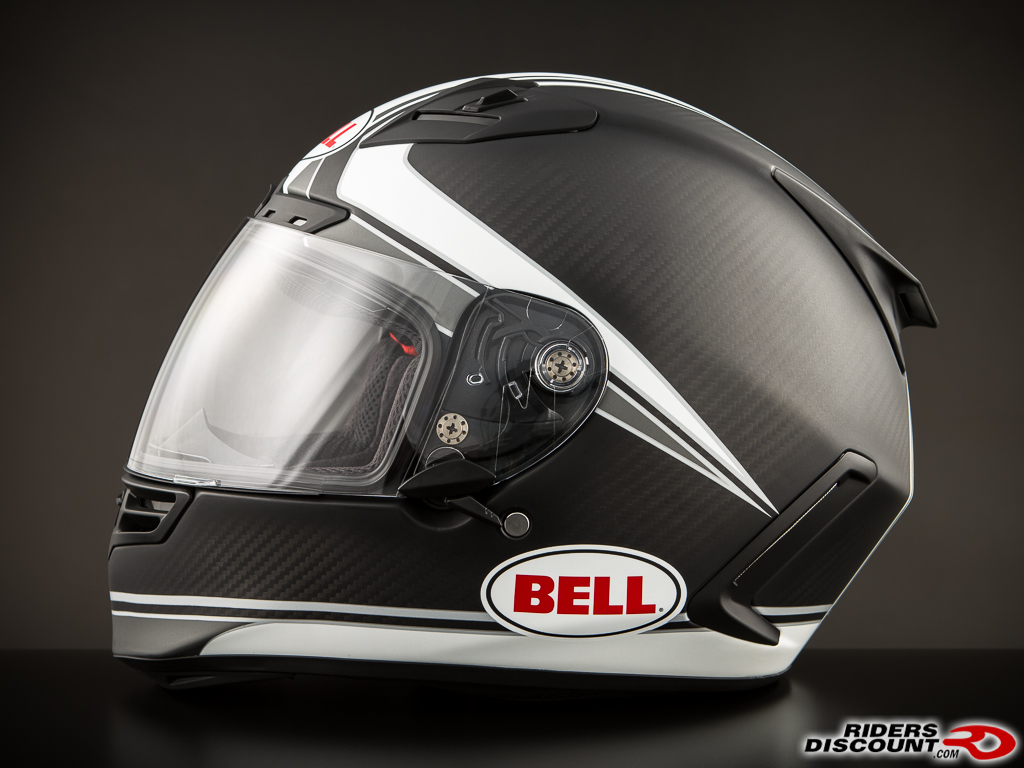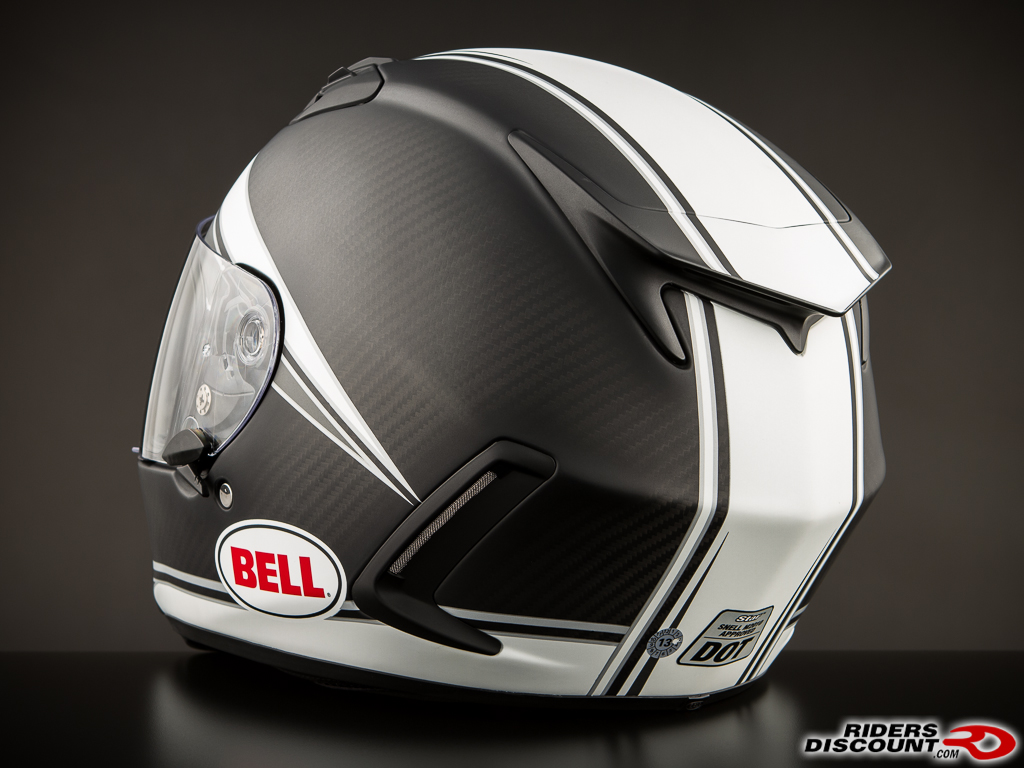 Bell Star Carbon Matte
- Shown here with an optional Dark Smoke shield. All Bell Star Carbon helmets come with a clear shield as standard.