Discussion Starter
·
#1
·
For those of us that are either done with our riding/track season, or getting close to the end of it, how did your 2013 road & track season go!?! For those still blessed with bearable riding weather, what are you hoping to accomplish or experience for the remainder of the year (besides posting pics to make us northerners jealous all winter, lol)?
So how was your year overall?
Awesome! Didn't get in as many street miles or track days as last season, but made much b***** strides in learning and astronomical gains in the mental aspects of riding towards the end of the year.
Highlights?
-Finally meeting a lot of people in person that I've been FB/forum friends with
-Successfully disassembling my bike down to the frame and reassembling it without it falling apart
-Working with Gabe & Karl at School of R.O.C.C., and Aaron at CRA N.R.W. to try to get me past some mental hurdles
-Seeing my wife get so involved with ZARS, as it has made her realize this is a huge family that just isn't about "people on bikes trying to go fast"
-Getting bumped Advanced in ZARS and TrackAddix (first time there at a new-to-me track!) after my moto-mental breakdown at CRA
-FINALLY believing in myself, tuning out the doubt, and taking my riding to a level all my friends were saying I was already basically at
-Getting my CRA Novice license on my street bike.
-Being able to ride multiple days at Barber, Road America, BIR, and MPH
-Did I mention the HUGE mental breakthrough?
Lowlights?
-How I felt during/after the June CRA weekend....which was my first time back at BIR simce my T7 crash last Aug...I never want to feel that way about motorcycles or my riding again
-Cold tire lowside at DCTC Appreciation Day. First time riding there in a year, first time back at DCTC on the Duc since over 2 yrs ago. More of a frustrating "are you KIDDING me" crash than anything
-Realizing I need to get my legs in better shape
Miles?
-Laughable compared to last season. Started at ~17k, and ended at ~22k. The catch is only ~1400 were street ridden....which is not normal.
Anything different from past years, good or bad?
-Ended the year MUCH more confident in tire grip, as I was running GP-As w/warmers for the first time on the Duc.
-Felt more like I had a strategy to work on things most of the sessions as opposd to just going out and turning laps, still need to work on not trying to work on too many things in one given session.
Plans for 2014?
-CSS Lvl 3 & Code R.A.C.E. @ Willow Springs OR CSS Lvls 3 & 4
-Racing at least 3 of the 5 '14 CRA events
-Purchased a pedal bike for offseason training to work the muscles that tend to "check out" on me at the track
-Possibly doing a Euro MC tour that includes 4 days in the Italian Alps w/2 days at Sachsenring.
-Coming into next season better than I was at the end of this past season
-Being a positive role model for riders new to the track
-Hopefully retiring the 848 from doing triple duty as a street/track/race bike, and make it track/race only.
Any pics that highlights your season?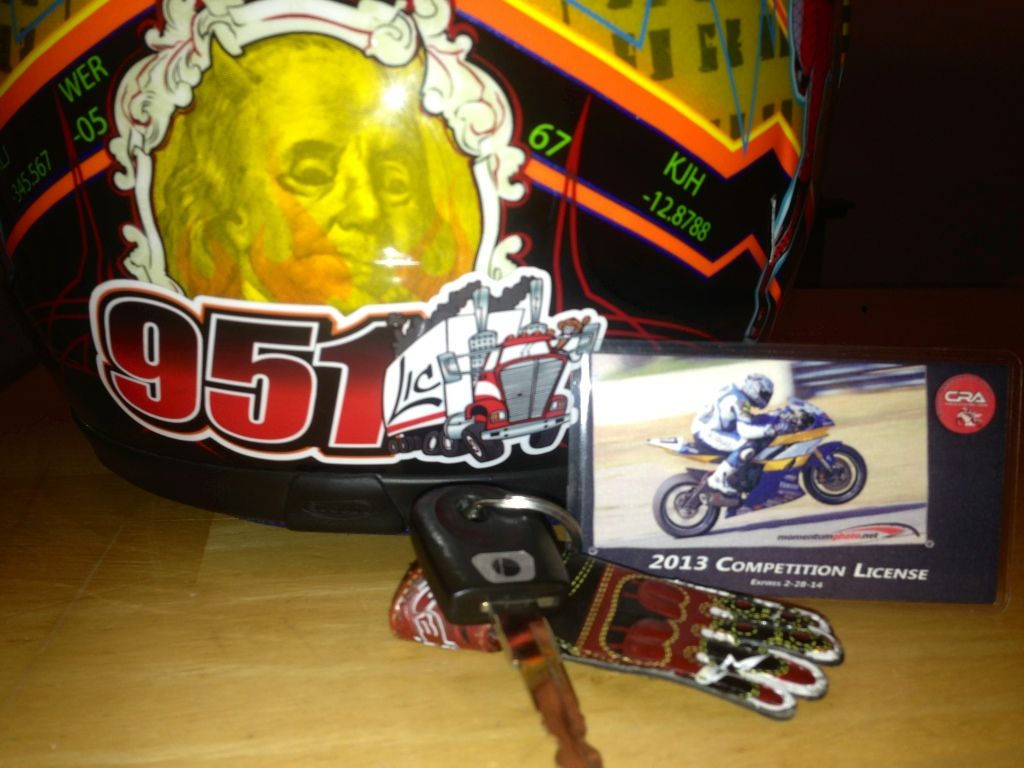 SHARE YOUR EXPERIENCES!!!
-Christian